INBRACE is the newest and most technologically advanced brand of lingual braces. INBRACE was designed to eliminate the most common challenges of working behind the teeth. It is unique because it utilizes self-ligating brackets which have a small clip to hold the wire in place. This makes wire insertion and removal significantly easier and quicker for the patient and orthodontist. One of the major drawbacks of traditional lingual braces is the difficulty with placing and removing ties on the brackets, and the subsequent extended chair time for the patient.
INBRACE uses customized wires which are programmed to fit the smile of each patient, guaranteeing highly individualized treatment. The wires are pre-formed for each individual case to achieve an ideal final outcome. This reduces the need for monthly wire changes, in fact, only three sets of wires are needed throughout the entire treatment!
INBRACE can be used to treat a host of orthodontic issues, from mild to moderate and even more severe malocclusions. And all of this can be done discretely, unlike other options. INBRACE marries the effectiveness of conventional braces with the aesthetic of traditional lingual braces and the ease and comfort of aligners.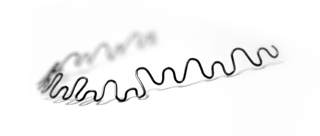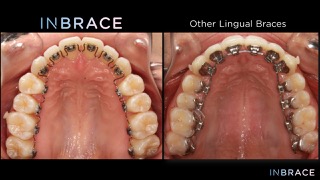 Advantages:
Wire changes are quicker than traditional lingual braces. The flexible interdental loops make wire insertion behind the teeth a snap, even when there is crowding.
Predictable chair time for you, shorter and less frequent appointments
With INBRACE it is easy to keep your teeth clean and healthy because you can brush and floss like normal. They do not require special tools to floss like traditional braces.
INBRACE also has the smallest lingual brackets on the market, which makes cleaning them significantly easier and better for overall oral hygiene (not to mention more comfortable!)
No need to constantly have your fingers in your mouth to remove/replace clear aligners!
Disadvantages:
Dietary restrictions are the same as with traditional braces
It will take about a week for the tongue to get used to having the braces in place. For this reason, we do a "conditioning" appointment 2-3 weeks prior to the delivery of INBRACE which involves bonding small metal buttons to the inside of the posterior lower molars. This allows the tongue to get used to having appliances on the inside of the mouth, so that by the time INBRACE is delivered, it will be a breeze!